Prime Minister Dickon Mitchell has disclosed that 15 Haitian nationals who entered Grenada as tourists on 12 February 2023, are being sent back because Immigration Officers have determined that they will be a burden to the public purse.
The PM who doubles as the Minister for National Security and Immigration, said in a news conference that the French-speaking nationals arrived on a flight from Trinidad.
Mitchell said "So, the immigration officers in their normal routine checks were able to ascertain to make the determination that, in fact, they will be a charge on the public purse if they were in fact permitted to enter the state."
The nation's leader claimed that decision was linked to the amount of cash in their possession at arrival.
The National Security and Immigration Minister explained that because Haiti is a Caricom member, there are very specific and limited grounds that can be used to prevent a Caricom national from entering.
He said "One of which is a charge on the public purse, and the second will be, in broad terms, national security risk. In this case, it was purely on the basis of a charge on the public purse," indicating that the Haitians were unable to stay in a hotel for at least one night.
He continued that "If you are not a citizen of Grenada and you come to Grenada, you can only be staying at a hotel for at least one night unless you have a friend or family, and in the absence of friends or family, it means that you have to be able to afford a hotel at least for one night; and if you don't have cash or credit card that allows you to afford a hotel for one night, it means you don't have a place to stay, and if you don't have a place to stay and we let you into our community what is going to happen? It means we as a state will have to take care of you".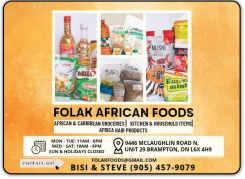 SUPPORT NIGERIAN CANADIAN NEWS
If you like our work and want to keep enjoying what we offer, kindly support us by donating to the Nigerian Canadian News through the button below
Share your thoughts in the comments section below
Do you want to share any news or information with us? If yes, contact the publisher at publisher@nigeriancanadiannews.ca